Managed Website Accessibility Dashboard
Monthly reports
Monthly reports to summarize any and all accessibility issues that arise on your web pages. Your monthly overview pinpoints the number and location of issues, what fixes were made, need to made, and need review.
Training and resources
Ongoing training and support to keep your web pages fully accessible. Includes video training and documentation for accessibility best practics and 24/7 Helpdesk support.
Campus Suite Academy
Part of our commitment to professional development for school communicators. Includes blog articles, webinars, guides, templates, case studies and a forum to share best practices in school web communication.
View and download past accessibility reports by clicking on a report in the list below.
Guides and templates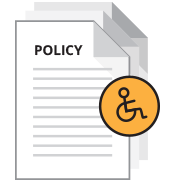 School Website Accessibility Policy Template
This template is designed to make it easy for you to quickly create your own school website accessibility policy – the first step to web accessibility compliance.
School Website Accessibility Guide
A complete guide to help you learn how to prepare your school website to be ADA compliant, and keep it fully accessible to people with disabilities.
Videos
This site provides information using PDF, visit this link to download the Adobe Acrobat Reader DC software.